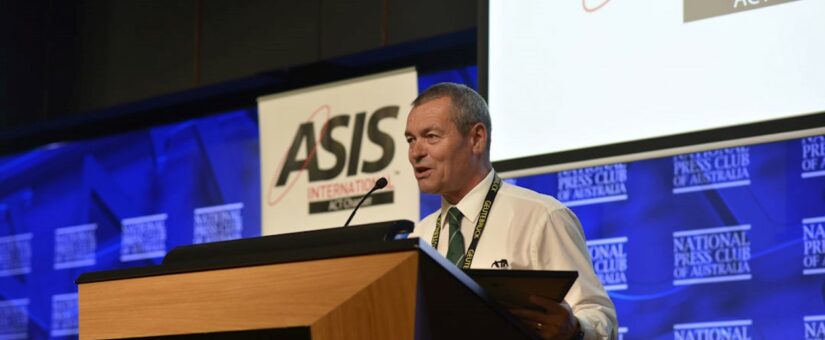 Mark Jarratt, CPP wins Prestigious ASIS Award
It is with great pleasure that Industry Risk acknowledges one of our Directors, and Australian Government Security Construction and Equipment Committee (SCEC) endorsed security zone consultant, Mr. Mark Jarratt, CPP, for a recent ASIS Award.
SYDNEY, 2nd December 2022
Mark was recently formally recognised with an ASIS Award from the Australian Capital Territory Chapter at the 8th annual Security and Government Expo, ASIS seminars and dinner in Canberra on 17 November 2022. ASIS International (www.asisonline.org) is the largest global association of security professionals with over 34,000 members in 200+ Chapters, though Mark continues to stand out through his tireless, voluntary efforts for the benefit of all security industry practitioners.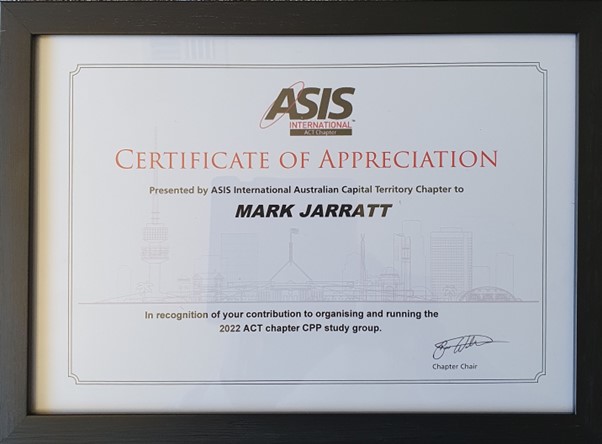 The ASIS Award, presented by ACT Chapter Chairman Mr Bou Waterhouse, recognised Mark for winning the ASIS Foundation Chapter Certification Starter Kit, and organising and presenting the 2022 Certified Protection Professional curriculum approved by the ASIS HQ Professional Certification Board to a group of highly motivated students.
Mark also assisted three students to successfully apply for ASIS Foundation Certification Accelerator Scholarships, covering CPP assessment and examination.
The International Standards Organisation ISO17024:2012 compliant CPP curriculum, delivered from August to November 2022, covered the seven security management domains of security and business principles and practices, investigations, PERSEC, PHYSEC, INFOSEC, and crisis management.
The 2022 CPP study program is the fourth organised and presented by Mark, a holder of the CPP designation since 1999, previous recipient of the ASIS Award of Achievement for Regional Certification Programs and former Vice-President, ASIS Australia Region (2013-15).
Industry Risk, and I, sincerely congratulate Mark on continuing our corporate commitment to supporting security professionalism through volunteer leadership, and internationally compliant security management and technical education through this ASIS Award.
Konrad Buczynski
Managing Director
1300 299 484
About Industry Risk:
Industry Risk delivers risk management and security consulting services to protect people and other assets.  We are proudly 100% Australian owned and have a long record of assisting Commonwealth/State Governments and private sector clients achieve their protective security and business resilience objectives.
Where we differ is the way we go about our consulting.  While we supply security services within an industry that is often identified for its traditional methods, we enthusiastically embrace change and interlace it with approaches that support better risk management outcomes.  We also employ advanced software and security systems and adopt a partnership philosophy, driving the way we engage with both our customers and suppliers.
Every security, threat or business continuity project we take on involves a tailored process of planning and engagement, augmented by proven methods and better consulting practices.  We are also very attuned to scaling our level of engagement based on the scope and specific needs of each of our clients.
We can do this because our management group is experienced, intelligent and innovative, and we're genuinely agile in what we do.  Our consulting team members have served as some of the most senior managers within our industry, but each has the operational nous to assure pragmatic outcomes at all times.  You will find very quickly that this is how we deliver faster outcomes with comparatively minimal fuss.  This in-depth experience means that our clients get the benefit of risk and security advice from a group of senior industry leaders who have been responsible for some of the most complex and high-risk security programs within the sector.
Moreover, a genuine regard for customer satisfaction is critical to us. In view of this, but mostly because it's in our DNA to only deliver excellent work, we go to extreme lengths to make sure that our clients are completely satisfied with what we've been engaged to deliver, on every project.
It may come as no surprise then that our mission is to be acknowledged as the premier supplier of expert security services in our industry, for the benefit of our clients, and to credibly raise risk management, security and business resilience standards in the process.