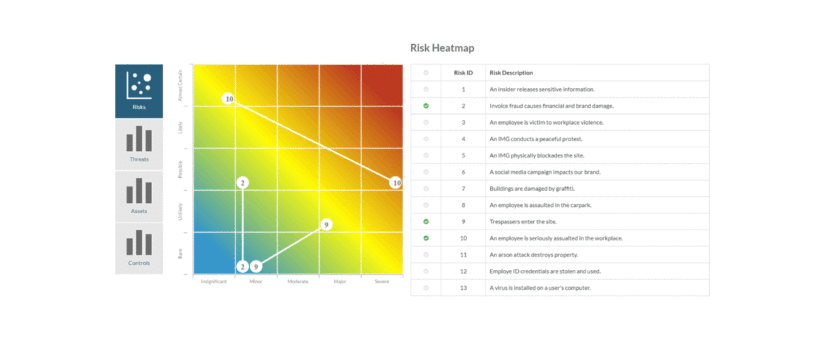 Best practice security risk software
Industry Risk recently launched its signature security risk management platform for live beta testing. A web-based/SaaS (software as a service) platform, SECTARA enables security managers and consultants to perform and then manage / export (to MS Word) advanced security risk assessments of any description.
The security software system is hosted within an Australian Amazon Web Services (AWS) environment, which is accredited to Australian Signals Directorate (ASD) 'UNCLAS DLM' (Commonwealth Government) standards. It can also be made available at a higher 'PROTECTED' level of certification if necessary, making it the most secure specialist risk management platform on the Australian market.
SECTARA solves security problems:
It's the simplest platform available for carrying out advanced security risk assessments – it means that virtually anyone can become proficient in doing them in a very short time.
Methodological rigour is assured as users must adopt a repeatable process in each assessment.
SECTARA caters for both cyber and protective security risk assessments, mximising convergence between the two, traditionally separate functions.
Security consultants can now be compelled to complete assessments in an UNCLAS DLM environment – meaning no more assumptions that their computers/devices are secure.
Assessor productivity can be maximised through availability of data libraries and templates.
Visual and dynamic analytics tools can be used to support management briefings and business cases.
Exploit the benefits of cloud-based functionality while having the freedom to export an assessment into an attractively designed MS Word document at any time.
All assessments are dynamic, meaning that they can always be kept current.
The system directly aligns with ISO 31000, HB 167 – Security risk management, and ISO 27005:2011 – Information security risk management. As such it is perfect for use by Australian security managers in both Government and the private sector. As the leading risk assessment tool in its space, compliance auditors can only be impressed with your risk practices.
How you can get a look at it
Sign up to our free plan today!
Industry Risk
Industry Risk is a specialist security consultancy focused on innovative solutions in Protective Security and Business Resilience. It's subsidiary, SECTARA Pty Ltd, is the entity through which our best practice security risk software is managed.